Free Online Lecture: Comanches and Germans on the Texas Frontier with Daniel J. Gelo, PhD and Christopher J. Wickham, PhD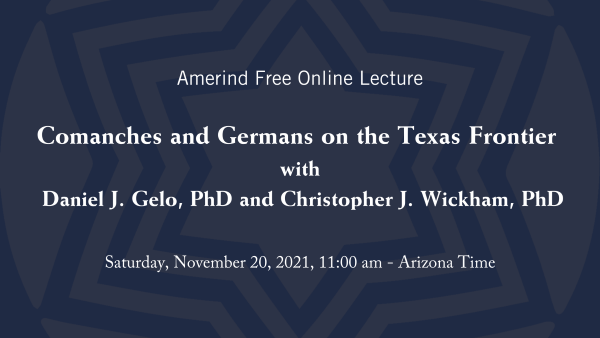 Amerind Free Online Lecture
Comanches and Germans on the Texas Frontier with Daniel J. Gelo, PhD and Christopher J. Wickham, PhD
Saturday, November 20, 11:00 am – Arizona Time
Relations between the Comanches and German immigrants to Texas are most frequently discussed with reference to the Comanche Treaty (Meusebach Treaty) of 1847. However, a long-neglected document of even greater significance for our understanding of the Comanches and Germans in Texas appeared just four years later. In his 1851 article "Über die Verwandtschaft der Schoschonen, Komantschen und Apatschen", Heinrich Berghaus published not only the first Comanche-German dictionary, but also a set of detailed, original cultural notes and observations, and an original map of Comanche hunting and grazing grounds.
Berghaus obtained his information from German immigrant Emil Kriewitz, who lived in the village of Penateka Comanche headman Santa Anna following the 1847 treaty. The circumstances of Kriewitz's residency throw light on the nature of the interactions between the settlers and the Native tribes.
This presentation examines in depth the contexts contributing to the 1851 article, the nature of the article's content, and value of the document for subsequent scholarship.
Daniel J. Gelo is Dean and Professor of Anthropology Emeritus and former Stumberg Distinguished University Chair at the University of Texas at San Antonio. Gelo holds Ph.D., M.Phil., M.A., and B.A. degrees in anthropology from Rutgers University. His publications include: Comanche Vocabulary (University of Texas Press, 1995), Comanches in the New West, 1896-1908 (with Stanley Noyes, University of Texas Press, 1999), Texas Indian Trails (with Wayne L. Pate, Republic of Texas Press, 2003), Comanches and Germans on the Texas Frontier: The Ethnology of Heinrich Berghaus (with Christopher J. Wickham, Texas A&M University Press, 2018), and Indians of the Great Plains (Second Edition, Routledge, 2019). He has won the UTSA President's Distinguished Achievement Award, the University of Texas System Chancellor's Council Outstanding Teaching Award, and the Presidio La Bahia Award for best book on early Texas history.
Christopher J. Wickham is Professor Emeritus of German at the University of Texas at San Antonio. He earned his B.A.(Hons) and M.Phil. at the University of Reading (UK) and his Ph.D. at the University of Wisconsin-Madison. He taught at the Universität Regensburg, Germany, Allegheny College, PA, and the University of Illinois at Chicago before moving to UTSA in 1991. He taught at the German Summer School at Middlebury College for seven years and directed the "UTSA in Munich" study abroad program for many years. He retired from teaching in 2017. His research focuses on German regionalism, Bavarian dialect, cinema, poetry, singer-songwriters, travel writing, Texas Germans, and German painters. He authored a monograph on the dialect of Diendorf, Bavaria, (1987) and books on the notion of Heimat (1999) and Comanches and Germans in Texas (2018, with Daniel J. Gelo). He edited books on German cinema and television (1992, with Bruce A. Murray) and German literature and culture (1991, with Karl-Heinz Schoeps). His recent articles include: "Postwar Tales of Two Cities: Rubble Films from Berlin and Munich" (2014); "Mid-Century Cultural Tectonics: Unpacking the Ying Tong Song Core Sample" in "Journal of European Popular Culture" (2021); "Remembering Exile: Jews in the American Dystopia in Axel Corti's Santa Fé (1985)" in Nancy Membrez (ed.), "War and Remembrance: An Anthology of Critical Essays" (2021); and a translation of Heinrich von Kleist's "Über die allmähliche Verfertigung der Gedanken beim Reden" ("On how we gradually make up our thoughts while we are talking," 2019). His annotated bibliography of Adelbert von Chamisso's tale "Peter Schlemihl" will be published in 2021. He is currently working with Daniel J. Gelo on a historical anthropological analysis of three mid-19th century sketches by German immigrant to Texas, Wilhelm Friedrich, and a study of 19th century Texas botanist and publicist Ferdinand Lindheimer.
This online program is free, but space is limited. To register visit: https://bit.ly/AmerindOnline112021